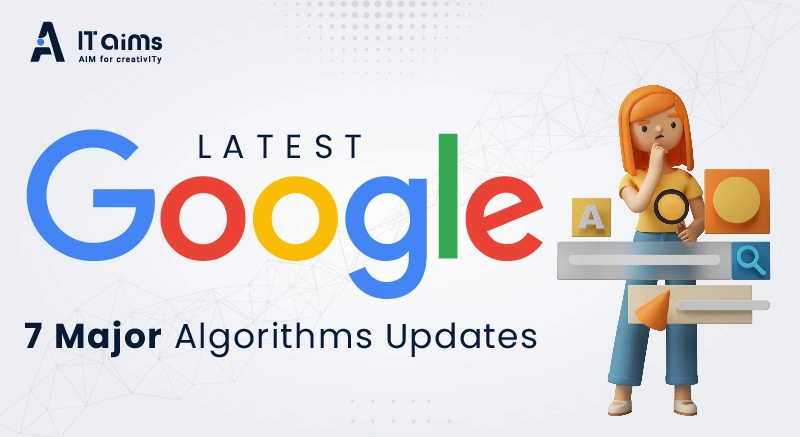 Google Latest Update: Search Ranking and Updates
SAM
FEBRUARY 09, 2023
IN
TECHNOLOGY
Google periodically updates its algorithm to improve the quality of its search results and to address issues such as spam and manipulation. These updates can have a significant impact on websites that are affected by them, potentially causing changes in search visibility and rankings.
Website owners and marketers should stay informed about Google's updates and monitor their own website's performance in search results. If they notice any changes, they should assess the impact of the update on their website and make any necessary adjustments to their SEO strategies to maintain their search visibility. This can include optimizing content, improving user experience, and building high-quality backlinks.
Some updates may be minor and go unnoticed, while others can be major and result in widespread changes in the search results. Following are some major updates of Google algorithm that has rolled out in December,2022.
1. On 5th December,2022, Google rolled out a feature that allows users to scroll continuously up to 6 pages without clicking on the button to load more content.
2. Google released a Helpful Content update on December 5th, and it is starting to become more noticeable now. The update took approximately two weeks to fully implement globally across all languages. It improves the classifier system and works across all content worldwide.
3. Google has recently launched a new help page that details the most frequently appearing visual elements on the search results page. This page includes a visual representation of 22 different elements found on the search results page, along with a description of each element, its name, and whether it can be optimized for by website owners.
4. Google recently introduced a new Search Status Dashboard, which is designed to inform users about any outages that may occur with the search service. Service status pages, such as the Search Status Dashboard, are commonly used by web-based services, as they provide a convenient way for both users and the service provider to communicate and stay updated about the status of the service.
5. Google has announced the rollout of the December 2022 Link Spam Update, starting on December 14th. The update took up to two weeks to fully implement. The purpose of this update is to improve Google's spam detection system by giving it the capability to detect purchased links and identify domains that are primarily used for link passing to other websites.
6. Google recently updated its Search Quality Raters Guidelines, making a significant change by adding "Experience" (E) to the existing criteria of "Expertise" (E), "Authoritativeness" (A), and "Trustworthiness" (T) to evaluate the quality of websites. This new criteria highlights the importance of trust, which Google considers to be the most crucial of all four elements. The goal of these guidelines is to help search quality raters evaluate the quality and relevance of websites, so that Google can deliver the most relevant and trustworthy search results to its users.
7. Google has recently launched a new search technology in India, which includes the ability to search within YouTube videos. This new feature allows users to search for specific information contained within a video, making it easier for them to find what they're looking for. The technology is currently only available in India, but it's likely that Google will roll it out to other countries in the future.
We will discuss all of the above updates.
1.Google has launched continue scrolling feature in desktop in Us only
Google is now offering the "Continuous Scrolling" feature on the desktop for English-language searches in the US, which allows users to view up to six pages of search results by scrolling down before seeing the "More" button. This expands the feature previously offered on mobile, where users can only see up to four pages of results. The new feature eliminates the need to navigate across pages to see more search results, which was the traditional approach by Google. The "Continuous Scrolling" feature can also increase visibility for sites that didn't rank high enough to appear on the first page, as many users tend to avoid going beyond the second page of search results.
2. Google has launched help content system update
Following are the details about this update.
How the helpful content system works
The aim of the content ranking system is to boost pages where visitors feel they had a positive experience, while lowering the ranking of pages that do not meet expectations. This system generates a signal for ranking web pages, factoring in various signals, including the automatic detection of low-value or unhelpful content.
Content on sites with a high concentration of unhelpful content is less likely to rank well, unless it is deemed more helpful than other content on the web.
This process is automated through machine learning and applies globally in all languages. It is not a manual action or penalty, but just one of many signals used in ranking content.
Some helpful content on sites with unhelpful content may still rank well due to other factors, and the effect of the signal is weighted based on the amount of unhelpful content on a site.
What does this system and updates to it mean for my site?
For information on creating content that performs well with the helpful content ranking system, check out google guide on creating helpful, user-centered content instead of content optimized for search engines. It includes questions to ask yourself when evaluating your content.
If a site removes unhelpful content, some may wonder how long it will take to improve their ranking. The impact of the system may take several months to apply to a site, as the classifier continually monitors both new and existing sites. If unhelpful content is not reintroduced over time, the classification will eventually be lifted.
Google periodically refine the classifier for detecting unhelpful content, and any significant updates are shared on our Google Search ranking updates page as "helpful content updates." After these updates are fully rolled out, if the refined classifier determines that content has improved, the previous unhelpful classification may be removed.
3. Visual Elements gallery of Google Search
The visual elements in Google Search results page are the components that users can see and interact with. The Visual Elements gallery serves as a guide to the common UI elements of Google web search, displaying illustrations of each element along with its name and information on optimizing the website for it.
The Google Search results page consists of various visual elements that can be perceived by the user. These elements may differ in appearance based on factors such as device (desktop or phone), location, language, and more. Each visual element also has sub-elements, such as title link, attribution, and snippet for text results. The appearance of visual elements can evolve over time. Below are the frequent types of visual elements in Google Search results:
Attribution
Attribution involves recognizing the origin of a search result, which can be text, image, or video. A variety of information about the source may be displayed, such as the website name, symbol, and web page URL.
Text result
Text results are an essential component of Google Search. They are based on the textual content of the page, and they contain a variety of visual elements, such as attribution, title link, and snippet. Furthermore, each text result may display differently depending on the device, language and search query used, and may also include rich attributes and sitelinks groups.
Text result image
A text result image is the top relevant image from a web page for a query. Tapping it leads the user to the page hosting the image. It is more likely to appear for queries with an intent to find images. To optimize for a text result image, follow the Image SEO best practices.
Rich attributes
Structured data you supply can highlight one or more additional lines of information about a web page, such as review stars and recipe details. This is known as rich attributes.
Host Group
A host group refers to a grouping of two or more adjacent text outcomes from the same website that share the same query ranking. The standard guidelines for text outcomes remain valid, as these are simply two outcomes grouped together. Consider designating one of these pages as the canonical if you prefer traffic to go to one over the other.
Image result
An image result is a search outcome based on an image displayed on a web page and is likely to show up for image-related searches. To improve your image's visibility in image results, follow image search engine optimization best practices.
Video result
A video result is a search outcome based on a video displayed on a web page and is more likely to show up for video-related searches. To improve your video's visibility in video results, follow video optimization best practices.
Exploration features
Exploration features assist users in discovering additional related queries to their initial search (referred to as "People also ask"). Although you cannot control the content in this section, it's useful to consider the related searches when planning topics for your website.
Related searches group
A related searches group is a collection of searches related to an initial query that other users have conducted. Clicking on a related search takes the user to a new search results page. These searches are generated automatically based on the original query and other popular searches.
Related questions group
A related questions group is a set of questions related to the user's initial search (referred to as "People Also Ask"). Expanding the question reveals a featured snippet. Acquire knowledge on how to control featured snippets.
4. Google Search status dashboard.
The Google Search Status dashboard is a tool for users to check if there is any issue with Google Search's crawling, indexing, or serving. The dashboard is updated in real-time to reflect any current issues and aims to provide transparency in case of rare system disruptions. Google wants to ensure the public is aware of the most current status of its systems impacting search.
5. December 2022 link spam update releasing for Google Search
Following are the details about this update.
Fighting link spam with SpamBrain
SpamBrain is an AI-powered anti-spam system. It can not only detect spam directly but also identify websites that purchase links and sites used for passing outbound links.
What this update means for your site
The December 2022 link spam update, which is now fully implemented and due to this, rankings may fluctuate as spammy links are neutralized and the influence gained from these unnatural links is lost. This update will impact all language versions.
As google has consistently emphasized, links primarily obtained to manipulate search rankings are considered link spam. Google algorithms and manual efforts aim to neutralize these artificial links on a large scale, and they will continue to enhance their coverage.
6. Google latest update to the quality rater guidelines: E-A-T gets an extra E for Experience
Google's search rater guidelines, recently updated, now include the concept of "Double-E-A-T" (Expertise, Authoritativeness, Trustworthiness and Experience). The guidelines emphasize the importance of content being original, helpful and diverse in format, and indicate that helpful information can come from a range of sources. These guidelines are used by search raters to evaluate the performance of Google's search ranking systems and can be useful for creators to understand how to create successful content in Google Search. The guidelines don't directly affect rankings, but the "Double-E-A-T" principle highlights the need for content to demonstrate expertise, authoritativeness, trustworthiness, and experience.
7. Google announced this as a pilot feature in India, but some in the U.S. are also seeing it.
Google is piloting a new feature called "Search in Video" in India and the US, which allows users to search for spoken words in a video. This feature makes it easier to find specific information within a long video. To use it, users enter a search term using the "Search in Video" feature beneath the video, which returns relevant results within the video.